Scopus Index International Conference
the Best Place to Publish
on Sustainable Development, Machine Learning, AI, and IoT
Selected conference papers have been given the opportunity to be published in SCI/Scopus Journal Electronics, a prestigious platform for high-quality research.
Selected papers are published in Journal of Autonomous intelligence (Scopus Index)

Selected papers  are published in "The International Journal of Sustainable Development Through AI, ML, and IoT", Double-Blind Peer-Reviewed Journal,  ISSN (Online): 2584-0827, Submitted For Scopus index Evaluation

It is planned to publish the proceedings with Springer in their Communications in Computer and Information Science series (Scopus Index) (final approval pending)
Introduction to Conference
The "International Conference on Sustainable Development" is a platform where academics, researchers, and practitioners gather to discuss the latest developments in sustainable development. In recent years, the conference has seen a significant increase in interest in the intersection of Machine Learning, Artificial Intelligence (AI), and Internet of Things (IoT) with sustainable development.
Machine Learning (ML) and AI have the potential to play a significant role in achieving sustainable development goals. For instance, they can help in predicting environmental and climatic changes, monitoring natural resources, and developing efficient waste management systems. ML and AI can also be used to optimize energy consumption and reduce carbon emissions by analyzing data from energy-efficient buildings and smart grids.
Moreover, IoT is a game-changer in the field of sustainable development, as it enables the monitoring and control of environmental and energy-related data in real-time. IoT sensors and devices can provide valuable data on air quality, water management, and waste management, among other things. This data can be analyzed using ML and AI algorithms to develop sustainable solutions for a variety of applications.
The integration of ML, AI, and IoT has the potential to create new opportunities for sustainable development. For instance, it can enable the development of smart cities, which use technology to improve efficiency and reduce the environmental impact of urban areas. Additionally, ML, AI, and IoT can be used to monitor and predict the impact of climate change on ecosystems, leading to more effective conservation efforts.
The integration of ML, AI, and IoT with sustainable development has the potential to transform the way we address environmental challenges. The International Conference on Sustainable Development serves as an important platform for researchers and practitioners to share their ideas and collaborate on new solutions to create a more sustainable future.
Review Process
At our conference, we ensure a rigorous review process to maintain the highest standards of quality and integrity in the papers presented. Each submitted paper goes through multiple stages of evaluation, involving esteemed reviewers, our conference chair, and plagiarism detection software. Here's an overview of our comprehensive review process:
1. Expert Reviewers:
Once a paper is submitted, it undergoes a thorough review by three esteemed reviewers who are experts in their respective fields. These reviewers meticulously assess the paper based on various factors, including but not limited to:
– Originality and novelty of the research
– Methodology and experimental design
– Clarity and organization of the paper
– Soundness of the conclusions drawn
– Relevance and significance of the research to the conference theme
– Contribution to the existing body of knowledge
The reviewers provide detailed feedback, suggestions, and recommendations to the authors to help improve the paper's quality.
2. Conference Chair Evaluation:
After the initial review by the expert reviewers, the paper is carefully examined by our respected conference chair. This evaluation aims to identify any intricacies, potential gaps, or inconsistencies in the paper. The conference chair ensures that the paper aligns with the conference's objectives and maintains a high level of academic integrity.
3. Plagiarism Check:
To maintain the originality of the research presented at our conference, all papers are subjected to a thorough plagiarism check using the highly regarded iThenticate software. This software compares the submitted paper against a vast database of academic and research publications, as well as online sources. Any paper found to have more than 10% similarity with existing works is rejected and the authors are asked to revise and resubmit their paper after addressing the plagiarism concerns.
Our commitment to upholding academic integrity and ensuring the quality of research presented at the conference is paramount. We strive to provide an unbiased and rigorous review process that encourages innovative and impactful contributions to the field. Review Process FlowChart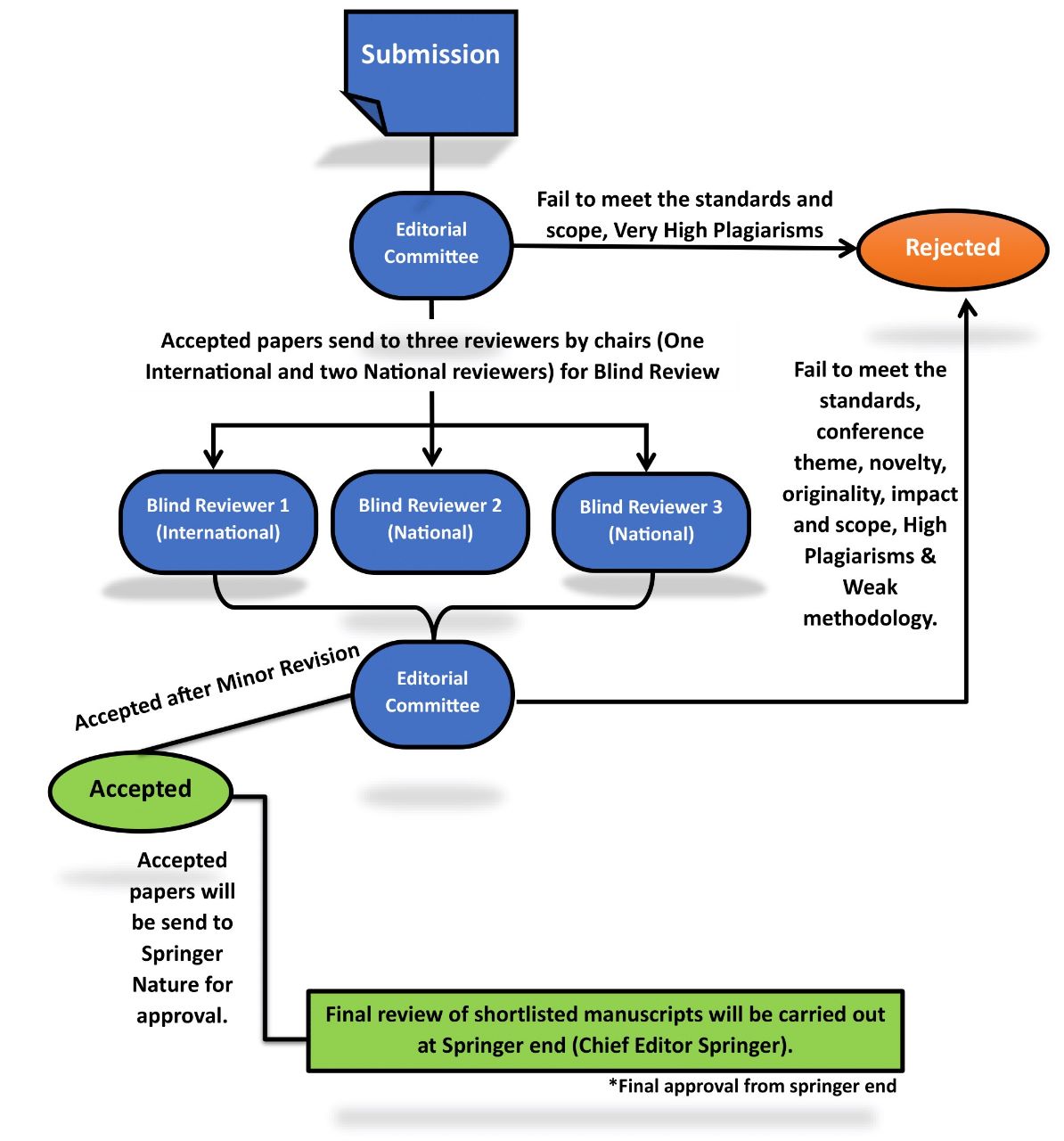 Topic For Paper Submission
The topics for paper submission at the International Conference on Sustainable Development, with a focus on the intersection of Machine Learning, Artificial Intelligence, and Internet of Things with sustainable development, could include:
Smart cities and sustainable development.
Machine learning and artificial intelligence for environmental monitoring and prediction.
Internet of Things for energy management and efficiency.
Sustainable waste management using AI and IoT.
Renewable energy forecasting using machine learning.
Sustainable agriculture and precision farming using IoT and AI.
Sustainable transportation using AI and IoT.
Natural resource management and conservation using ML and AI.
Climate change impact analysis and adaptation using IoT and AI.
Smart water management using IoT and ML.
Machine learning and artificial intelligence for predicting and mitigating natural disasters.
Sustainable supply chain management using IoT and blockchain technology.
Energy-efficient buildings and smart grids using ML and AI.
Environmental impact assessment and sustainable development using IoT and AI.
AI and IoT-enabled green supply chain management for circular economy.
Smart waste collection systems using IoT and machine learning for sustainable cities.
Intelligent transportation systems for reducing carbon emissions and congestion.
Precision environmental monitoring for ecological conservation using AI and IoT.
Smart grids and demand response management using machine learning for energy conservation.
AI and IoT for sustainable tourism and smart tourism destinations.
Submission Dates / Registration Fee
Submission Dates
| | |
| --- | --- |
| Start of Paper Submission | 01  Oct 2023 |
| Final Paper Submission | 15 Dec  2023 |
| Notification of Acceptance | 31 Jan 2024 |
| Registration |  29 Feb 2024 |
| Conference date | 27,28  April 2024 |
Registration Fee
| | |
| --- | --- |
|   International Participants | USD 250 |
|   SAARC IEEE Members | USD 100 |
|   Corporate Participants (in INR) | Rs 9500 |
|   Research Scholar (in INR) | Rs 8500 |
|   Students (in INR) | Rs 7500 |
|  Threws  Member  | 50% discount |
Step 1 Click on the button below that will redirect you to threws official website.
Step 2 Login or Register your Self in the Website in order to do Payment for your Registration.
Step 3 Fill the Details and Complete the Payment.
International Conference on Sustainable Development, Machine Learning, AI, and IoT
Date: 27-28 April 2024
Location: New Delhi, India
Submission Deadline: 15th Dec 2023
Contact Email: [email protected]
We invite researchers, practitioners, and academics to submit original and innovative research papers that address the theme of sustainable development in the context of machine learning, artificial intelligence, and the Internet of Things. Topics of interest include, but are not limited to:
Sustainable development goals and machine learning
AI for sustainable urban development
IoT for smart and sustainable cities
Machine learning for renewable energy systems
AI for sustainable agriculture and food systems
IoT for smart and sustainable transportation
Machine learning for sustainable manufacturing and production
AI for sustainable natural resource management
IoT for sustainable water management
Machine learning for sustainable waste management
AI for sustainable tourism and heritage management
IoT for sustainable buildings and infrastructure
Submission Guidelines: Papers must be written in English.
Papers should be no longer than 12-15 pages, including figures, tables and references and be on Springer Format (Download Format).
Papers must be formatted using the conference template, which will be provided.
Papers should be submitted in PDF format.
Papers should be original and not have been previously published or currently under review by another conference or journal.
Papers will be reviewed by at least three members of the International Program Committee.
Accepted papers will be published in the conference proceedings.
At least one author of each accepted paper must register for the conference and present the paper.
Submissions should be made through the conference's online submission system, (

[email protected]

).
Please include the title of the paper, the names and affiliations of the authors, and a brief abstract (150-200 words) in the submission.
Conference Chairs:
Dr. Pawan Whig(Senior IEEE Member) India ,

[email protected]

,
Dr. Nuno Silva Chief Scientific and Technology Officer, London, United Kingdom
Dr. MZM (Marta Zurek-Mortka), Poland, Senior Researcher in the Department of Control Systems, Łukasiewicz Research Network 
Dr.Ahmad A. Elngar(Head of Computers and AI) Beni-Suef University, Egypt
Dr. Nagender  Aneja (Asst. Prof. Program Leader (Computer Science) in Universiti, Brunei Darussalam
Yasser A. Al Tamimi, Associate Professor of Linguistics and Chair of the Department of
Humanities and Social Sciences at Alfaisal University in Riyadh, Kingdom of Saudi Arabia
Co-Conference Chairs:
Dr. Pavika Sharma (India)

[email protected]

Rahul Reddy Nadikattu (USA)

[email protected]

Ashima Bhatnagar Bhatia (India)

[email protected]

Radhika Mahajan (India), VIPS-TC  

[email protected]

Prof. Dr. hab. Eng. Jerzy Szymanski (Professor in Transport, Electrical Engineering and Computer Science), Poland
Dr. Kavita Mittal (Professor Computer Science and Engineering), Jims  University, India
Dr. Indira Routaray , Dean, International Education & Associate Professor in Mathematics @CGU-Odisha
Dr. Bhawna Narwal, (Assistant Professor, Department of IT, IGDTUW ), India
Dr. Pooja Bhati , Ph.D. (Mechanical Engineering, Fabrication of polymeric tubes)
Indian Institute of Technology, Delhi
Other Technical Program Committee Members:
Ashok Kumar Reddy Nadikattu (Senior Software Engineer at Arissoft Technologies), USA, 

[email protected]

Niharikareddy Meenigea(Data Analyst at Ablabs),USA, 

[email protected]

Samrajyam Singu (Software Engineer at Vanguard ),USA, 

[email protected]

Mahesh Tunguturi( Sr. DevOps Engineer at DXC),USA, 

[email protected]

Venkata Ravi Kiran Kolla ( Sr. Data Engineer at DTE Energy),USA, 

[email protected]

Rahul Reddy Naddikattu (University of The Cumberland),USA
Prof.(Dr.) Sandeep Kautish, Director-Academics, LBEF Campus, Kathmandu (Nepal)
Sudeep Tanwar (Senior Member, IEEE) is working as a full professor at the Nirma University, India. He is also a Visiting Professor with Jan Wyzykowski University, Poland, and the University of Pitesti, Romania.
Dr. Surendra Kumar, formerly Senior Scientist Bhabha Atomic Research Centre ( BARC ),Distinguished Professor
Dr. Mirza Tariq Beg (Prof.) https://www.jmi.ac.in/electronics/faculty-members/Dr_Mirza_Tariq_Beg-1763
Dr. S. Naseem Ahmad (Retd.) Professor https://www.jmi.ac.in/electronics/faculty-members/dr_s_naseem_ahmad-1773
Dr. Imran Ahmed Khan https://www.jmi.ac.in/electronics/faculty-members/Dr_Imran_Ahmed_Khan-3816
Dr. Ravi panwar http://faculty.iiitdmj.ac.in/faculty/rpanwar
Dr. Tajinder Singh Arora Assistant Professor https://portfolios.nituk.ac.in/430/tajinder-singh-arora/personal-details
Dr. Md Rashid Mahmood Professor GNITC, Hyderabad
Monica Malik, Security Engineer, NetApp, Bangalore
Dr.  Manu Gupta, Associate Dean Placements and Assistant Professor, Department of ECM
Sreenidhi Institute of Science and Technology, Hyderabad
Dr. Vijay Singh, Himachal Pradesh University, Shimla-5
Dr. Umesh Pathak, Group Financial Controller, Nesuto Australia
Dr. Astha, the Pharmacist incharge NSW, Australia
Ms. Suman, Transport Officier, Incharge of Sustainable Development, Sydney Metro, Australia
Ms. Nishtha Rajput, Project Manager, VAMED, Germany
Contact: Dr. Pawan Whig (Dean Research)

Vivekananda Institute of Professional Studies-TC
9811908699
[email protected]
We look forward to receiving your submissions and to an exciting and productive conference in New Delhi!
Conference Chair
International Convenors
Keynote Speaker
National Advisory board
Conference Chair
We are delighted to introduce our Conference Chair for the International Conference on Sustainable Development with a focus on Machine Learning, AI, and IoT. Dr. Pawan whig is an experienced and respected leader in the field of sustainable development and is committed to advancing the use of machine learning, AI, and IoT to achieve sustainability goals.
ICSD-2024 has an impressive track record in leading and organizing successful conferences and events related to sustainable development. Their expertise in the field of machine learning, AI, and IoT is widely recognized, and they have made significant contributions to the advancement of sustainable development globally. Their leadership, knowledge, and experience will be invaluable in ensuring the success of the International Conference on Sustainable Development.
As Conference Chair, ICSD-2024 will oversee the planning and execution of the conference, working closely with the National Advisory Board and the various committees to create an engaging and inspiring program that addresses the challenges and opportunities of sustainable development using machine learning, AI, and IoT. They will also be responsible for selecting and inviting keynote speakers and ensuring that the conference runs smoothly and successfully.
We are honored to have Dr. Pawan Whig as our Conference Chair, and we are confident that their vision, leadership, and expertise will help to make the International Conference on Sustainable Development a truly memorable and impactful event.
Conference Chair
Dr. Pawan Whig(Senior IEEE Member) India ,

[email protected]

,
Dr. Nuno Silva Chief Scientific and Technology Officer, London, United Kingdom
Dr. MZM (Marta Zurek-Mortka), Poland, Senior Researcher in the Department of Control Systems, Łukasiewicz Research Network 
Dr.Ahmad A. Elngar(Head of Computers and AI) Beni-Suef University, Egypt
Dr. Nagender  Aneja (Asst. Prof. Program Leader (Computer Science) in Universiti Brunei Darussalam)
Co Conference Chairs:
Dr. Pavika Sharma (India)

[email protected]

Rahul Reddy Nadikattu (USA)

[email protected]

Ashima Bhatnagar Bhatia (India)

[email protected]

Radhika Mahajan (India), VIPS-TC  

[email protected]

Prof. Dr. hab. Eng. Jerzy Szymanski (Professor in Transport, Electrical Engineering and Computer Science), Poland
Dr. Kavita Mittal (Professor Computer Science and Engineering), Jims  University, India
Dr. Indira Routaray , Dean, International Education & Associate Professor in Mathematics @CGU-Odisha
Dr. Bhawna Narwal, (Assistant Professor, Department of IT, IGDTUW ), India
Dr. Pooja Bhati , Ph.D. (Mechanical Engineering, Fabrication of polymeric tubes)
Indian Institute of Technology, Delhi
Other Program Committee Members:
Ashok Kumar Reddy Nadikattu (Senior Software Engineer at Arissoft Technologies), USA, 

[email protected]

Niharikareddy Meenigea(Data Analyst at Ablabs),USA, 

[email protected]

Samrajyam Singu (Software Engineer at Vanguard ),USA, 

[email protected]

Mahesh Tunguturi( Sr. DevOps Engineer at DXC),USA, 

[email protected]

Venkata Ravi Kiran Kolla ( Sr. Data Engineer at DTE Energy),USA, 

[email protected]

Rahul Reddy Naddikattu (University of The Cumberland),USA
Prof.(Dr.) Sandeep Kautish, Director-Academics, LBEF Campus, Kathmandu (Nepal)
Sudeep Tanwar (Senior Member, IEEE) is working as a full professor at the Nirma University, India. He is also a Visiting Professor with Jan Wyzykowski University, Poland, and the University of Pitesti, Romania.
Dr. Surendra Kumar, formerly Senior Scientist Bhabha Atomic Research Centre ( BARC ),Distinguished Professor
Dr. Mirza Tariq Beg (Prof.) https://www.jmi.ac.in/electronics/faculty-members/Dr_Mirza_Tariq_Beg-1763
Dr. S. Naseem Ahmad (Retd.) Professor https://www.jmi.ac.in/electronics/faculty-members/dr_s_naseem_ahmad-1773
Dr. Imran Ahmed Khan https://www.jmi.ac.in/electronics/faculty-members/Dr_Imran_Ahmed_Khan-3816
Dr. Ravi panwar http://faculty.iiitdmj.ac.in/faculty/rpanwar
Tajinder Singh Arora Assistant Professor https://portfolios.nituk.ac.in/430/tajinder-singh-arora/personal-details
Dr. Md Rashid Mahmood Professor GNITC, Hyderabad 
Dr. Umesh Pathak, Group Financial Controller, Nesuto Australia
Dr. Astha, the Pharmacist incharge NSW, Australia
Ms. Suman, Transport Officier, Incharge of Sustainable Development, Sydney Metro, Australia
Ms. Nishtha Rajput, Project Manager, VAMED, Germany
Monica Malik, Security Engineer, NetApp, Bangalore4
International Convenors
Keynote Speaker
National Advisory board






Frequently Asked Questions